Season 1

No. of episodes
13
Original run
March 1, 2012 to May 24, 2012
DVD release
Season chronology
previous
none
next
none
Police detective Michael Britten (Jason Isaacs) regains consciousness following a car accident involving his wife Hannah (Laura Allen) and his son Rex (Dylan Minnette). Michael moves back and forth between two realities: in one, Rex survived while Hannah is dead; in the other, Hannah survived but Rex did not. Trying to keep both his loved ones alive, Michael starts living a "double life," moving back and forth between the two realities, dealing with different personal conflicts and police partners. He also starts noticing strange links between the two realities.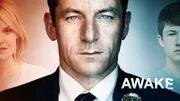 External links
Edit
Ad blocker interference detected!
Wikia is a free-to-use site that makes money from advertising. We have a modified experience for viewers using ad blockers

Wikia is not accessible if you've made further modifications. Remove the custom ad blocker rule(s) and the page will load as expected.