Harvinson is an AP science student interviewed by Britten and Bird in connection with the murder of the Green Reality's Dr. Bernard Mackenzie (see Additional Characters) by barely traceable, heart-attack inducing poison. After compelling evidence comes to light, he confesses to the murder and summarizes his hate-driven motive. He offers cooperation in exchange for the law's discretion against letting others discover Mackenzie's illicit paternity in numerous cases.
Harvinson is portrayed by Brian Norris.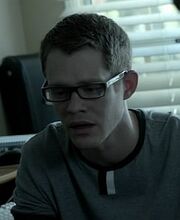 Ad blocker interference detected!
Wikia is a free-to-use site that makes money from advertising. We have a modified experience for viewers using ad blockers

Wikia is not accessible if you've made further modifications. Remove the custom ad blocker rule(s) and the page will load as expected.