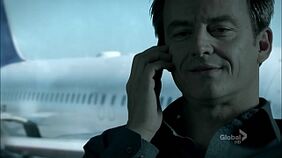 Many minor and supporting characters on Awake are alluded to but not seen, seen but unnamed, or seen infrequently.
Ananyev, Alina - Russian American socialite turned Witness Protection Program member. Says she was happy with little more to her name than an ocean view. Provided for by husband Marcus but chagrined to learn that his salary was paid by criminal enterprises. Has a painting done by her mother. Keeps a cat named Bella. (portrayed by Ayelet Zurer)
Ananyev, Marcus - Russian American accountant for a crime lord. Met fellow Russian Alina in New York and later married her. Moved to West Coast and kept modest accommodations before earnings increased thanks to new, illicit position. His situation was stable until nearly killed by car bomb. Frightened to testify and enter Witness Protection Program but police point out no other reasonable choice and promise all possible protection. Saddened to confess his association with criminals to his wife. (Marcus played by Elijah Alexander)
Anderson, Cassie - High school student reputed for her exceptional good looks. Alleged by Emma to have turned the head of her boyfriend Rex as her excuse to break up with him. Miss Anderson is said to dress in a style inspired by hip hop music videos.
Angela - "Progressive" mother of Emma. Kindhearted and sympathetic.

B
Cabrerro, Jose - Immigrant construction worker killed in a skirmish with his drunken brother who proceeded to steal his identity.
Cabrerro, Pablo "El Diablo" - Immigrant construction worker formerly known for his short temper, unprofessional conduct, and a Devil face tattoo on his right shoulder blade. After committing the drunken manslaughter of his brother, Jose, he concealed the body within a concrete foundation, keeping Jose's green card and assuming his identity. He had a growling tiger's head drawn over his old tattoo and claims to have redeemed himself of his old character flaws.
Carol - a trusted Britten family relation. "Aunt Carol" to Rex.
Christie - see: Wyath, Christie below
Coh, John - Owner/Operator of a dry-cleaning business suspected of arson and insurance scheming, presumably motivated by his substantial gambling debt. (played by François Chau, billed Francois Chau)
Coh, Mrs. - Wife to John. Keeping a secret about their finances. (Mrs. Koh played by Elizabeth Sung)
DaSilva - An LAPD Detective. Little is yet known about DaSilva except that he goes by the book and is approximately equal in rank and seniority to Britten. Detective DaSilva is portrayed by Frank Gallagos .
Do, Jinsung - Employee of Solomon Kang (see below) at automotive business and cash handler for side gambling operation. Drives muscle car and lives in Korea Town with grandmother. Also hired arsonist against dry cleaning business owned by the Kohs. (Jinsung Do portrayed by Jeremy Chu, grandmother by Kieu Chinh)
Dubious Witness - see Homeless Man, below
E El Diablo - See the Cabrerro Bros., above
Fernandez, Sabina - Employee at dry cleaning business operated by Mr. & Mrs. Koh. Sabina also used the business for overnight shelter up through when it was ignited by an arsonist, resulting in her death.
Ferriss, Ally - Elementary school aged girl with budding ambition to enter oncology field despite living in fear of her abusive father.
Ferriss, John - Widower who blames Tim Wax (see below) for inciting the suicide of daughter Sabrina. John is ultimately arrested for alleged sexual crimes against both of his daughters.
Ferriss, Sabrina - 17-year-old suicide victim who reportedly sought sex with passable father figures for a four-week-old pregnancy she had just discovered. Sabrina is survived by her father (whose child she was evidently carrying) and her younger sister, Ally.
Francis - Mysterious "weird" former Google employee and leader of a computer hacking team based in a below-ground dwelling in Angelena Heights. Together, they can determine the password on a Windows OS file in competitively short time. (Francis played by Joe Hursley)
Gemini Killer, the - This mysterious, elusive serial murderer has been active all over the United States for approximately twelve years. His pattern includes a theme of deuces; always slaying two victims within two days, carving the roman numeral II into their flesh, and (not publicly known) leaving 2-dollar bills with the corpses. Copycats of Gemini are known to exist, having unwittingly given themselves away by failing to leave a $2 bill. The true Gemini was purportedly shot and killed by his FBI pursuer. However, all available evidence points to the character with whom Britten contends being the real one.
George - see O'dell, George
Harrison, Cynthia - LAFD Investigator who responds to fire at dry cleaning business operated by the Cohs. Harrison concludes that evidence pointing to electrical causes is actually a cover-up for arson. (portrayed by Lyn Alicia Henderson)
Homeless Man - A homeless man, billed as "a dubious witness" in promotional clips, claimed to have seen the murder of Bernard Mackenzie by a "little guy" in Red Reality. This particular vagrant also valued chewing gum as if it were currency and ranted about a structure that broadcasted brain-disrupting signals. Due to these quirks, most on the police force didn't regard him as a credible witness. The homeless man was portrayed by Jeris Poindexter.
Islas, Susanna - reporter for KOFD News, on the scene covering the Vista Psychiatric hostage situation.
Jake - Longtime Confidential Informant to Michael Britten. Said to be culpable for unspecified offenses which get overlooked due to his value as a snitch. Likes steak dinners and Cuban cigars but claims to be trying to quit on doctor's advice due to acid reflux symptoms. Values old friends but slow to make new ones. (actor: Steve Lawrence)
Jenkins, Perry - Vagrant formerly of 2642 Hipping Street but evicted due in part to drinking problem. Implicated in one murder due to possession of victim's belongings (including drugs) but cleared when evidence shows he merely found them in a dumpster. (portrayed by Patrick Cox)
Joaquin - "Progressive" father of Emma. Has a respectable job with his own office. In favor of closed adoption for his expected, illegitimate grandchild but receptive when others in the picture encourage him to reconsider.
Jones, Kenneth - Reserved football fan from out of town. Reports the death of his brother Robert but withholds facts. (Kenneth portrayed by Chris Marquette)
Jones, Robert - Obnoxious football fan killed following a drunken melee with George O'Dell. Known by acquaintances to have had a tendency to start fights. (Robert played by Kyle Sabihy)
Kang, Solomon - Owner/Operator of an auto detailing business which fronts for a gambling operation. Suspected of arson against Mr. & Mrs. Koh resulting in the death of their employee, Ms. Fernandez.
King, Mia - 50-year-long resident of a rent-controlled apartment and last among tenured neighbors to leave. Said to have had a son killed in Vietnam. Well-reputed according to Ms. Pearl. Killed around same time as her younger neighbor, Dion.
Kramer, Det. Ellen - LAPD Detective and coworker to Bird and Britten. Involved in one assignment known as the Chaffen case.
Len (NLN) - LAPD man in charge of seemingly chaotic evidence locker. He can find anything stored there on request, even if others can't. Duly chastises personnel responsible for any missing articles. Knows his way around video game consoles thanks to friends who play. (portrayed by John C. Storey)
Little Guy, the - Suspect description supplied by the homeless man (see above) applying to as many as three people:
In the Green Reality, Sam Harvinson matches the vague "little guy" description due to his age and height.
In the Red Reality, "the little guy" is an unidentified suspect in the murder of Bernard Mackenzie (see Mackenzie, below).
That suspect may or may not be Detective Ed Hawkins, as a "little guy" is said by the conspiring captains to have effected the accident .
Mackenzie, Bernard - Name of murder victims in both realities. The Green Reality's Mackenzie was a well-respected Doctor alleged by Sam to be highly unscrupulous. The one in the Red Reality was involved with the drug trade and had a criminal record.
Mars - Unenviable first name of one-time polo playing suitor to Hannah before Michael's persistence beat him in the contest for her affections.
Myron - Irresponsible grandson of Ms. Pearl, according to her. Said to closely resemble Bird.

N
O'Dell, George - Home team football fan and suspect in the killing of rival fan Robert Jones. George admits to drunken melee and DUI but claims a gap in memory, even when told he'd need a better defense if charged. "I wouldn't kill someone just because L.A. lost!"
Owens, Milo - Junkie and alleged assassin of Mia King (price $5,000) arrested and outfitted with wire for meeting with his employer. Milo is so jittery from withdrawal that he asks police for tide-over drugs. (played by Paul McCarthy-Boyington)
Paul, Sarah - Staffer at the apartment abandoned by Roland Patrowski. Knows little about him other than that he had no personal associates due to his tendencies as a loaner. (Sarah played by Sharon Omi.)
Patrowski, Roland - run-of-the-mill spree killer. Has website design expertise. Known to complain of headaches. Possibly allergic to cats. Caught staying in foreclosed property belonging to an internet contact. Confesses "I'm sick" and describes employing a letter opener as a murder weapon involuntarily as if in a dream.
Pearl (or Ms. Pearl) - One of multiple former tenants of Curtis Wilson now living in a rest home on his dime. Suffers from memory problems but claims to have a grandson named Myron. Speaks highly of Mrs. King.
Porter family women - The elder Ms. Porter is known to have had two daughters. One was Kate. When the other died, the mother overcame her grief enough to try consoling Kate. Her differing degrees of persistence (or Kate's receptivity to them) acount for the dichotomy of Kate's quality of life between the dual realities.
Q
R
Realtors - two Diamond Ferris Real Estate agents are seen in the episode Ricky's Tacos. One is on hand to show off the Westfield property. The other is Heather Seiple (see below). Both bemoan falling property values and blame economic circumstances.
Seiple, Heather - in real estate. Assists the red reality Brittens with putting their home on the market. One of two realtors working for Diamond Ferris Real Estate.
SVENgali69 - Onscreen handle of unnamed inhabitant of Stockholm, Sweden. Upon being contacted by Los Angeles police, reports that fellow gamer Dion left his console to investigate a gunshot and never returned (evidence that Mia King was shot before Dion). (SVENgali69 portrayed by Thor Knai)

T Tim - See Wax, Tim; below
U
V
Wilson, Curtis - Apartment owner looking to sell rent controlled properties. Pays for rest home care of elderly former tenants. Of all such renters, only Mia King (above) refused to leave. Wilson is thus implicated in her murder but shrewdly denies it, even upon arrest. (Wilson portrayed by John Cothran Jr.)

Wax, Tim - Student questioned by police about an unexpected sexual encounter with his suicidal lab partner, Sabrina Ferriss. Out of confusion and fear of mounting evidence, he falsely confesses to having raped her. He is freed after new evidence surfaces pointing to John Ferriss as the rapist.
Wyath, Christie - Beloved, late sister of Gabriel Wyath III. Christie was reportedly killed by a violent ex-boyfriend and is buried at Wild Rose Cemetery.
Dr. Wyld/Wild - Imaginary mad jailer believed by Gabriel to be holding his sister Christie (see above) against her will.
X
Y
Z